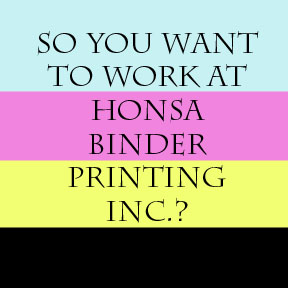 We look for many qualities in the individuals we hire -- the ability to communicate effectively, a high level of organization, strong interpersonal skills, and so on. Regardless of an applicant's qualifications, we always look for one attribute in particular -- the desire to provide high quality products with excellent customer service.
We can train people how to work with clients or run pieces of equipment, but to have passion for customer service and pride for your work takes a unique individual.
If these are qualities you possess, we're sure you'll find a rewarding career with us. 
---
Current Openings
Currently we have an immediate opening for a Customer Service Representative and a Bindery Operator/Cutter position available. Please apply below.
This is a CUSTOMER SERVICE position where you would be the main contact for many long-standing accounts in addition to being support staff for larger accounts. You would be handling their orders and guiding them through the production. Your responsibilities would be to take customer orders from emails, submitted purchase orders, downloaded orders from an online order system or by phone. You would also be responsible for managing customer inquiries via phone or email. We are small company with a focus on the individual experience, so most of these orders require attention to detail. Each order stands on its own. Printing knowledge preferred. Skills involved are phone and email skills, good communication, experience requires excel, word, outlook and access. PrintSmith experience is a plus, also graphics, fonts, points and layout are beneficial, but attention to detail is the key. We pride ourselves on giving our customers excellent service as well as a quality product.
________________________________________
We are currently looking for a hardworking and detail oriented individual to join our production team in an EXPERIENCED BINDERY OPERATOR role. We are a first shift only shop with hours 7:00am – 3:30 pm. Some overtime may be available.
Key Tasks:
•Efficiently set up and operate various bindery machinery, such as MBO Folder, Flat bed cutter, Duplo creaser, and a variety of stitching and drilling equipment
•Completes a variety of operations to cut, fold, finish and package printed materials
•Maintain quality control in cutting, stitching, and folding – Pull samples •Follow documented work processes
•Maintain equipment
•Observes and applies work and safety rules
•Forklift Operation
•Assist other departments when assigned to do so
Requirements:
•At least 1+ year of Bindery experience in a printing company working in a folder, cutter, stitcher or operator role
•Mechanically inclined
•Must be self-motivated and able to work independently and in team environments
•Strong attention to detail
•Able to work in a fast-paced environment
• Ability to lift up to 70lbs
•Able to stand for extended periods of time
•Understanding of the printing process
These are full-time positions days, Monday-Friday. Please apply on our website right below or email a resume to marla@h-bprint.com.
Honsa-Binder Printing, Inc. Application For Employment