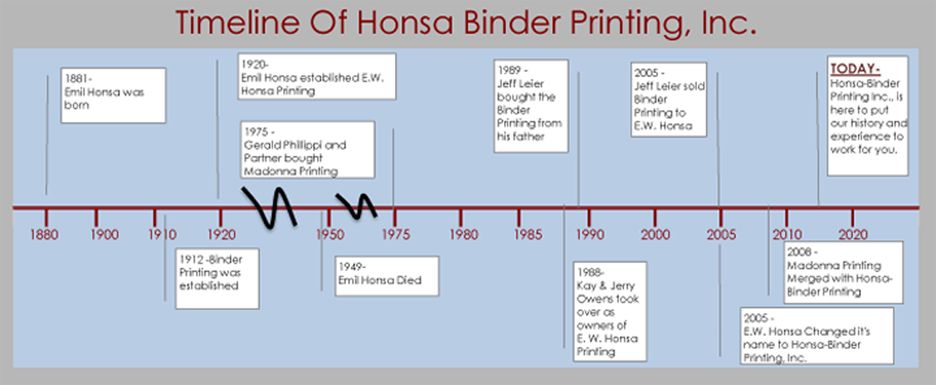 Rome wasn't built in a day. . . Neither was Honsa-Binder Printing.
     A lot has changed since Emil Honsa started the company in 1920. Between then and now, the company has grown in manpower, square footage, and equipment. When current owners Jerry and Kay Owens purchased E.W. Honsa Printing Company in 1988, they understood that a quality product is hard to produce without quality people. They brought with them over 15 years of print experience, and they used that knowledge to expand the company and recruit the most skilled printers they could find.
     After many years of establishing a solid tradition of customer service and quality union printing, E.W. Honsa Printing Co. was ready to expand even further. In 2005 Kay and Jerry purchased Binder Printing, which was established in 1912 and most recently owned by Jeff Leier, who purchased the company from his father in 1989. After a tragic fire that damaged the majority of Binder Printing's equipment, Jeff decided to sell the company. With the purchase, Honsa Printing expanded and officially became Honsa-Binder Printing, Inc. In 2008 another opportunity landed with the merger with Modonna Printing and its owner Jerry Philippi. Jerry continues to service his accounts today with products produced by the skilled printing of Honsa-Binder. Although many things have changed since Kay and Jerry purchased the company in 1988, one thing has remained the same: our commitment to quality printing and outstanding service.
     Now that you know a little about our history, let us help you create a history of your own. Check out our products page for ideas on your next project, learn more about who we are to discover what makes Honsa-Binder Printing different from other printers in the industry, or contact us to find out how we can help you make your mark with your next printed project.
---
Today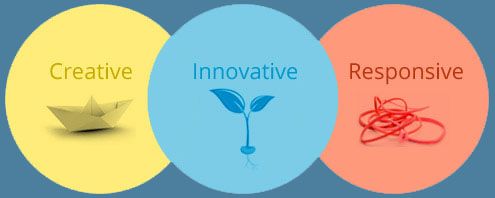 Our mission is to provide you with the highest-quality products and services possible in a timely fashion and at a competitive price. We promise to listen to you and help you achieve your business goals. We will always be there with honest, expert advice and quick, friendly customer service. Our goal is to meet and exceed your expectations.
---